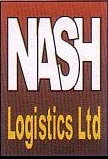 NASH Logistics Ltd was established to meet the needs of shippers who require a full range of reliable and consistent service in every leg of the international supply chain.
Management of NASH Logistics is organized with efficient and skilled hands of leading shipping professionals and offer following range of services:
- Sea Freight Export and Import
- Air Freight Export and Import
- Combined transport (Sea and Air)
---
Add: NIB House (1st Floor), 32 Agrabad C/A, Chittagong, Bangladesh.
Tel: (880 31) 711019 ~ 21.
Fax: (880 31) 710013.
Email: info@nashlogistics.net