Hudong-Zhonghua Shipbuilding, a division of China Sate Shipbuilding Corporation (CSSC), had won the large-size LNG carrier construction market and received orders for 37 new constructions in 2022.
Katherine Si | Feb 06, 2023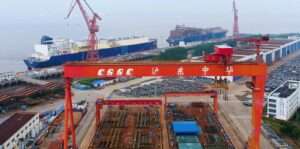 Last year, the volume of large LNG carriers' newly received orders reached a record high. The market share increased to 21.8%, making it the second-largest in the global market.
According to CSSC, the shipyard intends to maximize layout for the entire industry chain and increase its capacity for the production of LNG carriers this year.
Related: Unprecedented LNG fleet expansion driven by record orderbook Hudong-Zhonghua Shipbuilding is currently building the second phase of the Changxing shipbuilding base to increase its capacity for building LNG carriers. After the second phase base in Changxing is finished, Hudong-Zhonghua's annual LNG carrier construction capacity, which is scheduled to be delivered in stages between 2023 and 2024, will increase to between 10 and 12 vessels.
Hudong-Zhonghua's current orders can keep the yard fully operational until 2028.